Profile of Dr. Md. Kamrujjaman
Dr. Md. Kamrujjaman
Associate Professor
Department of Mathematics
Faculty of Sciences
Email: kamrujjaman@du.ac.bd
Phone: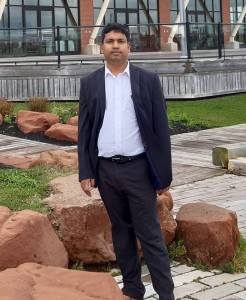 Short Biography:
I obtained PhD in Applied Mathematics with a specialization on Mathematical Modelling of Population Biology at the University of Calgary in 2016. I am a regular faculty at the Department of Mathematics, University of Dhaka, Dhaka, Bangladesh since 2007.

I am broadly interested in the area of Mathematical Modeling in Population Biology & in Epidemiology, Analysis of Partial Differential Equations, Biomedical Applications of Mathematics, and computing numerical analysis for solving partial differential equations drawn from problems in these fields. All the real life problems in the prescribed areas are widely connected with partial differential equations (PDEs).

More specifically, I focus to establish theoretical results of Ordinary Differential Euqations (ODEs) system and Partial Differential Equations (PDEs) and verify the results by simulating the problems. The focal point of my research in Epidemiological Dynamics is to use adaptive techniques to develop an integrated modelling and computing framework. Fortran, Matlab, Mathematica and STATA are the computing surface to write my programming codes, data analysis and to develop the algorithm.